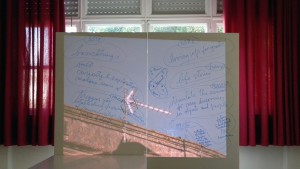 COORDINATOR
Pedro Carvalho de Almeida, University of Aveiro
PARTICIPANTS
Suitable for all participants
PROPOSAL
Taking the concept of Dérive – defined by the situationist theorist Guy Débord as "a mode of experimental behavior linked to the conditions of urban society: a technique of rapid passage through varied ambiances" – as a point of departure, the Silent Objects workshops aims to present the city of Aveiro through personal records, namely images and sounds instantaneously collected by the participants. The individual perspective of each participant will contribute towards the construction of a larger collective imaginary, representing the diversity of interpretations of those who do not have an attachment with the city. Using digital equipment (cameras, videos, smartphones, tablets, Dictaphones), the materials collected by the participants will result in an installation, an 'automatic museum' of impressions about the city, which will be displayed in Aveiro's Museum of Art Nouveau.
OBJECTIVES
- To introduce the Cumulus conference delegates to the city of Aveiro through active participation.
- To construct a collective imaginary.
ESTIMATED WORKSHOP DURATION
Conference days 1 and 2 – informal meetings
Conference day 3 – Installation