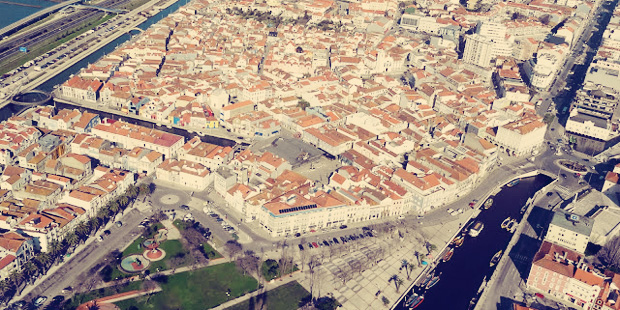 Aveiro Highlights
Aveiro offers a wide variety of interesting things to see and do!
What to see in Aveiro:
In the city's historical centre you can visit:
Aveiro is known as the 'Venice of Portugal', with the Ria de Aveiro's canals reflecting the shapes of traditional Moliceiro boats and Art Nouveau buildings.
The Moliceiro boats are one of the major highlights of Aveiro. These boats were used for collecting and transporting a type of riverweed, goods and cattle. Nowadays they stand out as a tourism attraction. They are painted with vivid colours and drawings which depict various themes, whether romantic, religious or just humorous.
The Manuel Firmino Market is a traditional market close to the canal.
There is also a modern shopping centre (Fórum Aveiro) in the city centre.
On the way to the university campus you can visit the D. Pedro V Gardens, built in 1862 on the grounds belonging to the monastery of St. António. The gardens have an avenue of lime trees, a bandstand and romantic nooks amongst bridges and trees.
The Aveiro Museum occupies the former Jesus Convent building. The museum collection comprises paintings, sculptures, traditional tiles, jewellery, furniture and ceramics, mainly from the Baroque era.
The Art Nouveau Museum, located at Casa Major Pessoa has opened its doors in Aveiro. The museum is a true icon of art nouveau, where you can travel back in time. The Museum also houses an enchanting Teahouse where you can relax and watch the world go by.
The Troncalhada EcoMuseum is an authentic salt marina where you can discover the work of the salt collectors, experience the beauty of the salt plains, and find out how salt was traditionally made.
Where to eat in Aveiro:
Gastronomy is influenced by the fruits of the sea, such as eels, that have become symbols of Aveiro's gastronomy, with a wide variety of recipes. While the bouillabaisse is probably the tastiest way to eat them, there are many other recipes – the eel marinade is also famous. Usually served as an appetizer, the Mussel Brochettes are one of the most popular snacks in the region. Other regional dishes include Cod, Monkfish Rice, Seafood Rice or Cataplana, a type of fish stew.
Aveiro specializes in confectionary, especially the famous and prized "ovos moles" (sweet eggs), shaped as barrels, fish or animals.
There are many restaurants in the city's historical centre, where you can enjoy your meal and sample Portuguese beers or the excellent Portuguese wines.
Adamastor Restaurant
Cervejaria do Rossio
Alexandre
 Restaurant
O Batel
 Restaurant
O Telheiro Restaurant
Olá Ria Restaurant
Closer to the University campus you can find places more dedicated to the student community, with comfort food, good prices and long opening hours:
Autocarro bar
Café Convívio
Café Ramona
In the city centre there are numerous cafes with all the typical delicacies to sample with a cup of coffee!